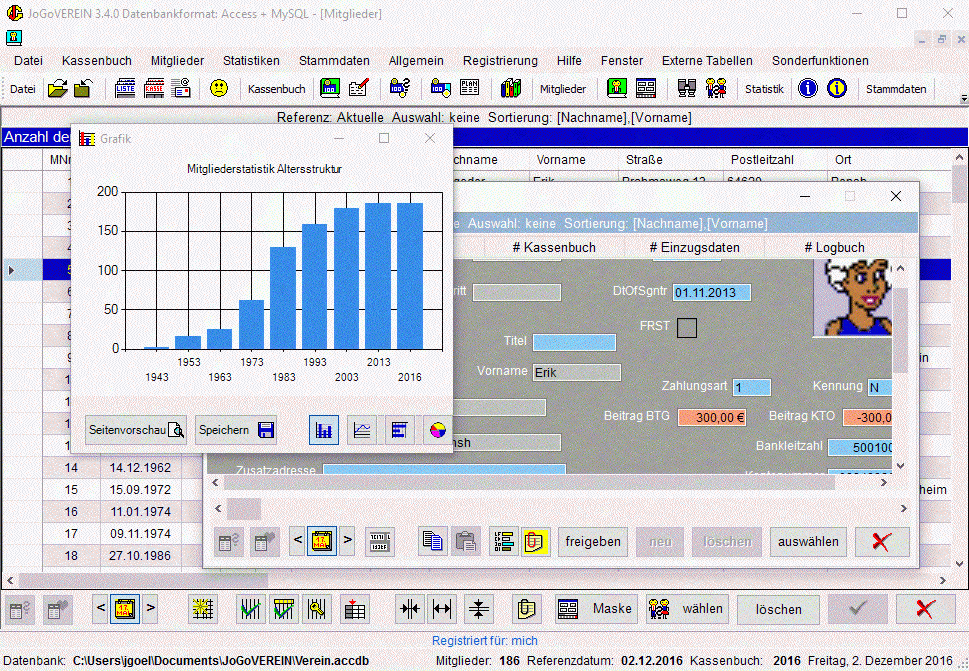 JoGoVEREIN is a flexible club management program with cash-book, fees management and membership management based on Microsoft Access or MySQL.

The database can be adapted flexibly to the particular requirements of the club. Based on the sample database and the extensive help file, the user can configure a custom system.

Already entered members data can be imported. Data can be exported in various formats (text, Excel, Access) is possible. Because of the format of the Access database, the stored data are readable from the Microsoft Office programs. With Microsoft Word written letters so that for instance be supplied with addresses. The stored E-Mail addresses can be used by Microsoft Outlook.

The data fields for the member record can be freely configured. Telephone area codes, postal and bank codes of Germany, Switzerland and Austria are integrated. Field contents can be calculated with arithmetic and logical expressions. With memo fields can be arbitrarily large texts are stored. Images stored in image files can be assigned to the member record and shown in the input maske.

Lists and labels can be designed with a graphical user interface and provided with graphics and images. Contributions are recorded in the cash book and in addition to the contribution account of the member assigned. The fees collection by direct debit can done by DTAUS- or SEPA-file.

Access to the database can be protected by a password, and then the data is stored in encrypted form. Bank codes are updated via the Internet. Summary information can be output as a graphic. Data for writing tax receipts are provided.

With an additional function can be captured counts (Kleingartenverein), settle, print and export it.
Keywords: Club program, club software, club management, allotment association, cash management, member management, database access, premium collection, DTAUS, SEPA, membership fees, club,
Recent Changes: Umschaltung deutsch / englisch. Beitragseinzug mit SEPA Lastschriftdatei.
Install Support: Install and Uninstall
Supported Languages: German, English
Additional Requirements: Framework 4.5